Imagine an inclusive world in which all kids can see themselves in the pages of a book. Sadly, kids with vitiligo often find negligible or no representation in popular culture. They often grow up not seeing themselves in any of the books they read or the TV shows and movies they watch. To ensure that it doesn't happen anymore, authors like Daniel Rušar have written a children's book on vitiligo.
Strakáč a Tíoni (Slavic) is about a five-year-old boy with vitiligo who is searching for his strengths. Batik´s patches enlarge every day whilst some bullies call him a piebald animal. Batik finds himself alone. He tries to beat sadness and outwit his patches. However, nothing works. To feel stronger, he even bullies two children (Toucan and Fennec) that look different. Ultimately, all these three kids become close friends and play together. Once, Batik paints his patches and laughs a lot. His two friends laugh, and they all have fun together painting their faces, ears, and noses. Batik ultimately finds out that his ability to laugh and make others laugh is indeed his superpower.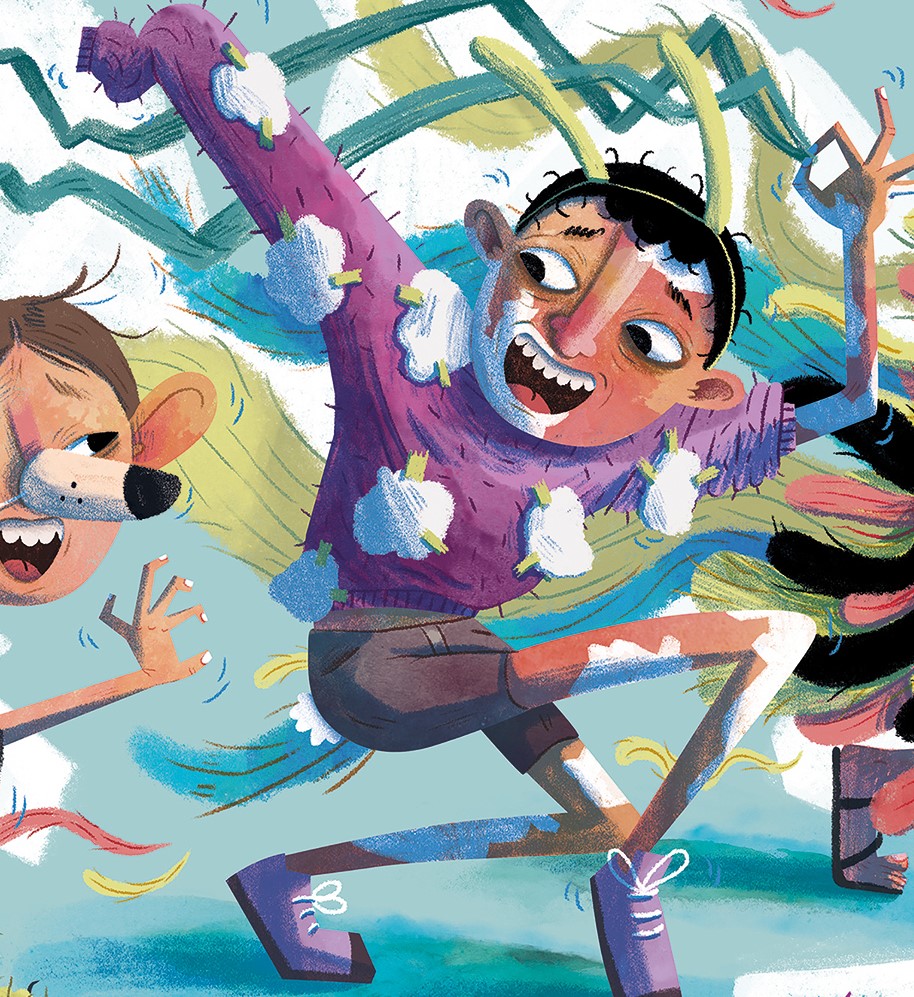 Initially named Piebald and Themliens, Strakáč a Tíoni came into existence in 2015. We asked author Daniel Rušar what inspired him to come up with such a visually unique book. He shares "I guess there are a number of events that inspired me to write this book – sincere laughter of my son when a small boy made fun of his big eyes and glasses, my encounter with laughter yoga, my own dappled life and a beautiful campaign of Winnie Harlow and Desigual. When my interest in illustration met these ideas Strakáč a Tíoni was conceived.
Daniel, author of Strakáč a Tíoni, was diagnosed with vitiligo during his teenage. He let us peek into his vitiligo journey: "I found out that gluten and lactose-free diet, cold water, breathing, and meditation help the spots not to grow bigger, faster or spread more. I used to be cautious about the sun. But soon I decided not to deal with my fears anymore. Today, I feel much better at doing so."
Strakáč a Tíoni is not only an important book for kids with vitiligo but also a must-read for small ones with Psoriasis and Atopic Eczema – skin conditions that have recently been significantly increasing. Daniel believes Strakáč a Tíoni will appeal to parents of children with skin condition as well as to parents of their friends and classmates: "The story shows to children that it is okay to laugh at yourself to relieve inner stress. Laughing that comes from inner joy is a great tool to make friends and gain self-confidence. The picture book is likely to encourage children with any appearance distinction, to gain self-esteem and self-confidence. Minimalistic storytelling, written form a five-year-old boy´s perspective, should help small beings to easily relate to the character, his feelings, and his journey."
As a writer and a trainer of social skills, Daniel likes writing children´s books that deal with uneasy situations in life, stories that trigger both children and their parents to share some time together. If Daniel is the voice of the book, Illustrator Adéla Režná is the heart of it. Adéla has graduated in illustration from the Academy of Fine Arts and Design, Bratislava. Other than Strakáč a Tíoni, she has illustrated other children's books like Sweet Shoes and Lost Rabbit in Paris.
At present, Strakáč a Tíoni is available in Czech and Slovak languages.