The month of March brought cheers to vitiligo fighters as John Harris, director of the Vitiligo Clinic and Research Center at the University of Massachusetts Medical School, said that the longer-lasting treatment for vitiligo could be available within the next few years. Harris, M.D., Ph.D. is currently working on a new treatment-in-testing that targets and removes the cells responsible for developing chronic skin disorder. In his research, Harris and his team of researchers has determined that autoimmune memory cells (specifically resident memory T cells) are responsible for vitiligo relapses.
It seems like living with vitiligo can be beneficial too. A Korean research report has stated that people with vitiligo have a "markedly reduced" risk for developing malignancies of internal organs compared with other individuals. Miri Kim from The Catholic University of Korea in Seoul has found out that autoimmune disorders, including vitiligo, may offer immune surveillance for the development of cancer beyond the targeted organ.
A total of 101,078 patients of vitiligo were identified in the Korean National Health Insurance (KNHI) claims database (from January 2007 to December 2016) for the study. A control group of 202,156 individuals without vitiligo, matched with the vitiligo group for age and gender, was randomly selected from the same database during the same period. Patients in the vitiligo group were shown to have significantly reduced risk of developing an internal malignancy in relation to the control group. The findings of this study could motivate physicians and researchers to investigate the systemic influence of the autoimmune nature of vitiligo.
Other than innovation in vitiligo researches what grabbed spotlight this month was a German cat. Elli, aged three has turned from black to white after developing vitiligo. The pussy cat was diagnosed with the skin disorder when she was 18 months old. She was originally black with a white tuxedo like her sister, Rosie before turning white.
Elli's before after photo went viral on the internet and vitiligans across the world couldn't stop loving her for her uniqueness. Her 39-year-old owner Ms. Böhm has made Elli an Instagram account which is now followed by more than 15,000 people.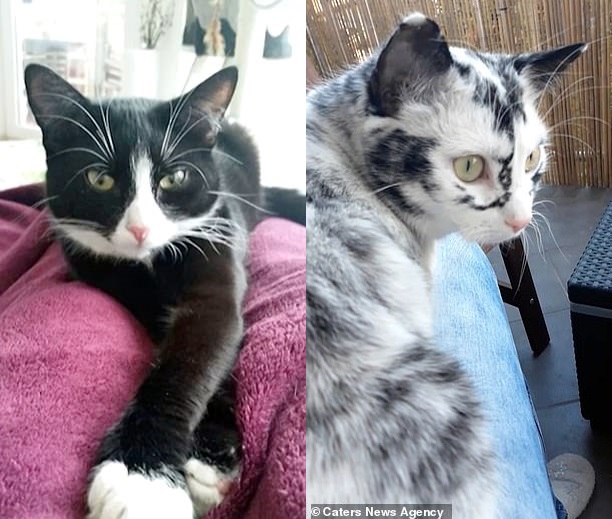 In other news, a bearded woman, Harnaam Kaur, and a man with vitiligo, Bashir Aziza, shared a flirty exchange on House of Extraordinary People the same month. The pair were seen speed dating in an episode of a new show. Viewers took to Twitter to comment on how much chemistry the pair had. Excited fans urged them to get together on the 5Star reality TV series – where nine people with incredible bodies live in a house in Bewholme in Yorkshire for ten weeks.