When you think about the things that didn't exist until the 2010s, you'll have a disorienting realization that vitiligo virtually had no representation in fashion, popular culture, media, and social media till 2009. Sure, Michael Jackson had vitiligo, but he never publicly spoke about it or did anything to dispel common myths associated with vitiligo. Also, very few research studies were conducted on vitiligo, leaving all vitiligans puzzled. 
As inclusivity has improved in the last decade, so has our vocabulary. The proliferation of research, representation and social media has directly impacted how we perceive and talk about vitiligo now. It's no more a life sentence. Yes, everyone newly diagnosed with vitiligo has his or her own journey, but at least it is not that time when you couldn't reach out to another person who looked like you. 
From Winnie Harlow participating in America's Next Top Model to the World Vitiligo Day reaching every nook and corner of the world —here's how the 2010s will be remembered by all of us with vitiligo.
Popular Culture 
The 2010s helped the world discover the excellence of Winnie Harlow who is not only a role model for all young vitiligans but anyone who is considered different. It won't be an overstatement that Harlow, with being present across platforms, stimulated people's curiosity about vitiligo, making the skin disorder a topic of conversation. That's not it, by being who she is, Winnie became: 
First supermodel with vitiligo 

First woman with vitiligo to be featured in a music video

First brand ambassador with vitiligo 

The first model with vitiligo to walk the ramp of Victoria's Secret Fashion Show

The first model with vitiligo to be featured in Vogue
During the 2010s, many painters, photographers, muralists, and visual artists have started including vitiligo in their artworks. The most famous among these were Brock Elbank (Photographer), Alexandre Keto (Muralist), and Fola David (Visual Artist).
In films, Nital, Kuchh Bheege Alfaaz and Imago (both Indian motion pictures) managed to feature a leading character with vitiligo. Deadpool 2 also featured a character (Domino) that appear to have vitiligo. Though many actors with vitiligo have been diagnosed with vitiligo (like Thomas Lennon, Jon Hamm, and Steve Martin), many of them did not speak about their condition in public. Except for Leleti Khumalo, almost all of them have been working in movies and television using the makeup. Hope this changes in the next decade. 
Meanwhile, many music artists like Krizz Kaliko, Marcus Haran, and Swrap appeared in music videos without masking their vitiligo. Ariana Grande's music video Boyfriend too became a talking point in 2019 for representing vitiligo in a positive light. 
Media 
While a handful of books have been written about vitiligo, Turning White: A Memoir of Change (by Lee Thomas) and A No-Nonsense Guide To Vitiligo (by Yan Valle) reached a wider audience this decade. Many vitiligo fighters' stories got featured in magazines and broadcast media. By the end of the 2010s, Lujain Salah, an Egyptian social media influencer, became the first woman with vitiligo a correspondent on a broadcasting TV.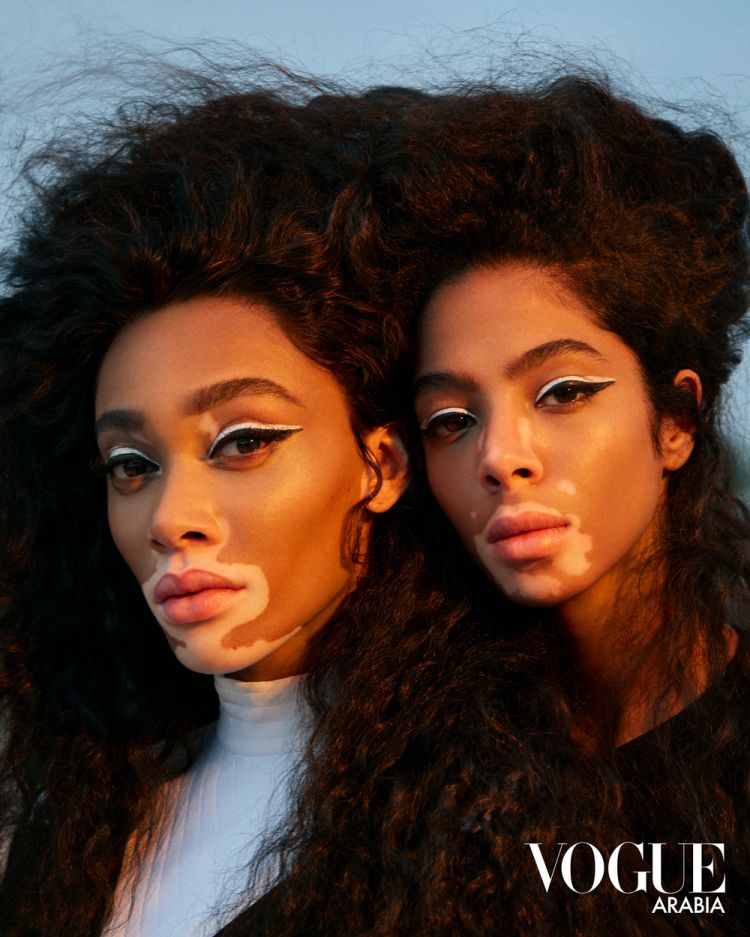 Visibility to vitiligo in advertising also got better this decade. The fashion brands like Rebecca Violette, Missguided, Diesel's (high-energy campaign), Desigual (Say Something Nice campaign), Parfait, Aliesha Renea, Gillette Venus, Primark, and Marc Jacobs integrated vitiligo in their campaign in some way or other. CoverGirl's ad for its TruBlend foundation featured Amy Deanna (a black model with vitiligo) while Aerie (a lingerie retailer and intimate apparel brand) and Dove (with its #ShowUs campaign) also challenged conventional beauty standards by featuring models with vitiligo in their recent campaigns.
Research 
On the vitiligo research front, nothing substantial could be achieved. But the good news is many studies across the world were conducted to figure out what causes vitiligo. Ruxolitinib's potential role in reversing vitiligo was explored through many controlled group studies. the roles of autoimmunity, oxidative stress, and thyroid autoimmunity were also challenged in various research papers published online. Though Phototherapy was used by a large population around the world, it didn't get FDA approval this decade too. 
Dr. John Harris, Director, the Vitiligo Clinic, and Research Center at the University of Massachusetts Medical School continued being engaged in several studies on vitiligo's treatment throughout the decade. He went on receiving Presidential Early Career Award for Scientists, for keeping his focus razor-sharp in the field of vitiligo research. 
Internet 
The Internet came to rescue vitiligans who could now find online support groups, YouTube Videos and self-help guides on the web. Social media also became a tool of self-expression for many vitiligans. Many famous models with vitiligo, including Winnie Harlow, Amy Deanna, Moostapha R Saidi, and Shahad Salman were spotted on Instagram by big brand's talent managers.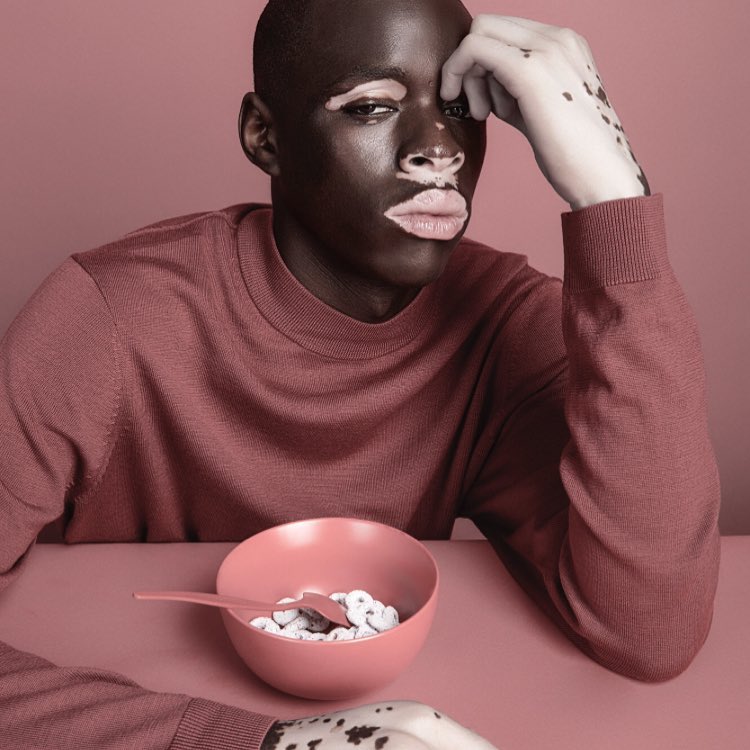 Many self-empowerment websites, including Living Dappled, Unite For Vitiligo, V-STRONG and Litty Ligo were launched during the decade to help vitiligo fighters manage the physiological impact of vitiligo. 
Local support
The biggest boon for vitiligo advocacy – World Vitiligo Day (WVD) – was conceived this decade, in 2011. WVD, which has emerged as a day of celebration for the vitiligo community is now getting bigger and bolder with each passing year. So far, many celebrities have chosen the day to reveal their vitiligo diagnosis to the public, while many social media influencers have gone make-up free on the very same day. Celebrated locally, WVD conferences have become a source of great motivation for many vitiligo fighters. So far, the USA, England, Canada, India, Brazil, Italy, and France have organized WVD-themed events in huge numbers.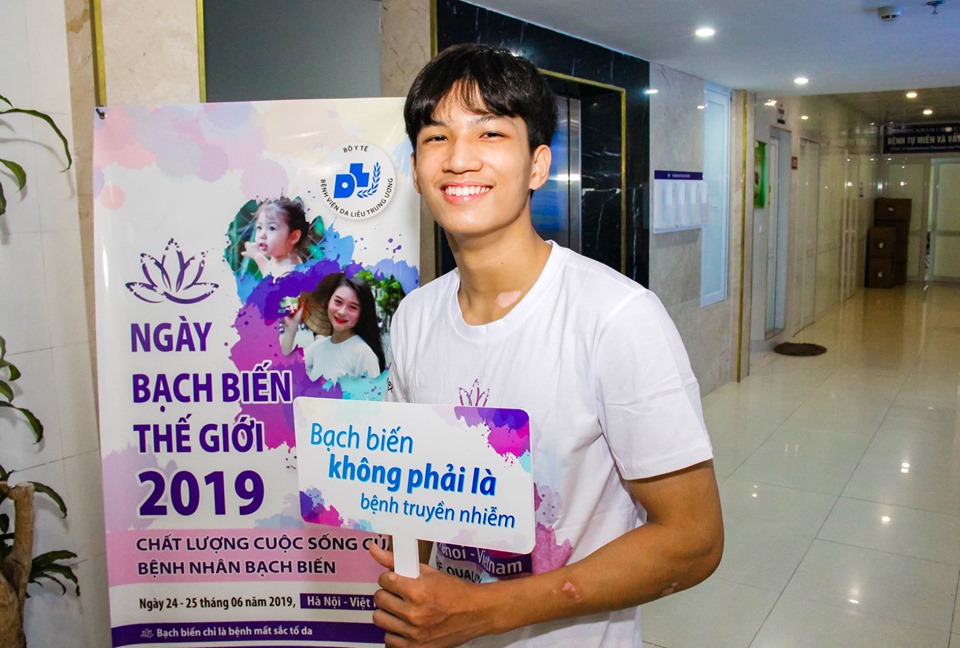 Also, more achievers with vitiligo (including Winnie Harlow, Lee Thomas, and Kayla Cooley Herndon) have been invited locally in the 2010s, to teach young students the lesson of self-love in 2010s. To extend the local support to teenagers with vitiligo, AARUS Foundation, a non-profit organization, also opened a local helpline in Indore (India).