A new Fortnite character named Joy was launched by Epic Games at the end of August 2021 but found space in the worldwide media this September. Joy's inclusion in Fortnite marks any video game's first character with vitiligo.
It is to be noted that Fortnite has always been known for featuring a ton of different skins. The new addition to the game's roster was submitted as a concept by a fan and chosen by Epic Games for inclusion in the game. Fortnite's inclusion of Joy is indeed an important milestone for inclusivity and diversity. 
I can not even explain how much happiness is filled inside me, Epic Games I love you with all my heart. Thank you for making my dreams come true. WELCOME TO FORTNITE JOY I LOVE YOU BABIE 😭🌈 pic.twitter.com/66rUhYcxQx

— Dahja 🦋 (@DahjaCat) August 31, 2021
The same month, a unique photoshoot featuring people with vitiligo also went viral. An unexpected collaboration between a medical student, a therapist, and a photographer led to a unique project in Milwaukee that highlighted the beauty of those with vitiligo. 
Nadine Abouchaleh, a fourth-year medical student at the University of Illinois began searching for volunteer opportunities and found Tough Skin, an empowerment organization for people with vitiligo, and the Global Vitiligo Foundation. To raise awareness of the skin condition, she eventually collaborated with these networks and did an educational photo shoot featuring known figures from the vitiligo community, including Andre Joachim, Founder, Visibly Imperfectly Perfect. The photoshoot was published on wisconsinmuslimjournal.org before going viral.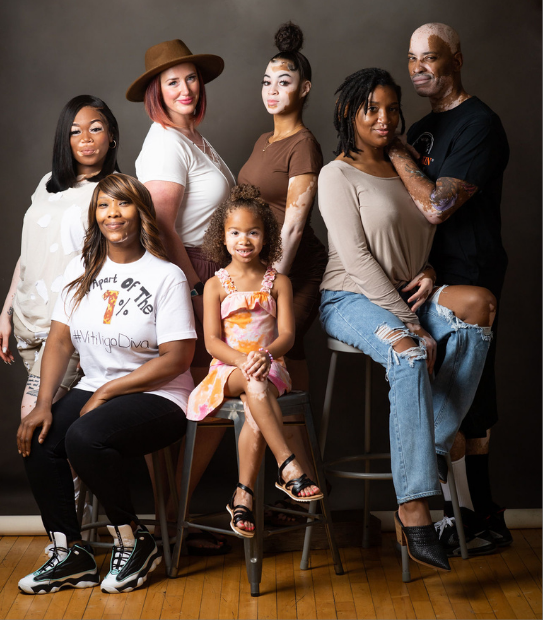 The same month, September 2021, another photoshoot caught the community's attention, not for the right reasons. Pakistani photographer Najam Mahmood's recent photoshoot came under fire for 'mocking' vitiligo. The photoshoot titled Sky and the Soul caused outrage for recreating vitiligo on a model with makeup. Najam received strong online criticism for his recent work in which model Maham Ali faked vitiligo with makeup. Many social media criticized Najam's choice and have simply asked him to hire a vitiligo model for the photoshoot instead of painting dark and light patches on a model who did not have the skin condition.