When one of our executives stumbled upon Mariah Perkins' Instagram profile, he rushed to the editor's room and said, " You should check her profile. Her confidence is infectious." By this time, Mariah's photo shoot with Jovan Woods was out. She along with Jovan was being celebrated in the community, and it seemed like the perfect time to contact her for a feature story. Our social media coordinator approached Mariah, and she agreed for a quick Q&A.
If you are an internet savvy vitiligo fighter, you must know who Mariah Perkins is. She has been featured on a television show in the UK called Too Ugly for Love. She has done a commercial for Dermablend Foundations and was featured in a YouTube special for Barcroft Media known as Shake my Beauty (which is about to reach 600K views). She has also been the subject of an article by Seventeen Magazine, a few radio interviews, and many more online articles. Today, she is an inspiration for many girls out there. But, was Mariah always this confident young lady? Let's find out.
Mariah was about twelve years old when she noticed a small spot on her finger that was light and barely noticeable. She didn't start to get bothered by it until vitiligo, in the form of small patches began appearing around her nose and mouth.
Understandably, it was difficult for her as a child. "I was unsure of what was going on. Having vitiligo back then made me ashamed to show my face, and I thought it was ugly. I started to cover it up with full face makeup, and I would never go anywhere without it. It would get so bad that I would never be in pictures without my makeup or even sleep without it because I was afraid that somebody would see me and would not treat me the same," she pours her heart out.
Thankfully Mariah never really encountered bullying. But, the hardest part was dealing with stares and questions. People often confused her vitiligo for a burn, a tattoo, makeup, face paint, or another condition. "Some would be rather hurtful in nature like asking if it was contagious. Another common misconception is that it has something to do with race or that it means that I am mixed."
Mariah continued feeling trapped in her own skin until she was about 20 years old. It has been a year and a half since she embraced vitiligo fully, but the process took almost ten years. During this Hussle of self-acceptance, dance was Mariah's savior. "It allowed me to express myself and truly feel beautiful because it was something I was good at. I was not afraid to be myself and dancing is what truly made me happy. It allowed me to grow as a person and it also helped build my self-esteem. Once I was more confident in myself, and I learned more about who I truly was and my worth, it was easier to accept my vitiligo."
Today Mariah feels that having vitiligo has been a blessing in disguise for her. "I always thought people would judge and not accept me, but people are way more supportive than I ever imagined. At first, I covered the vitiligo and hid behind my makeup. Now, I still love makeup, and I love my skin naturally. I am confident in myself, and it shows through my natural persona, and I am so much happier than I ever was. Although I would not wish for anyone to go through what people like us go through, I would not wish my vitiligo away. "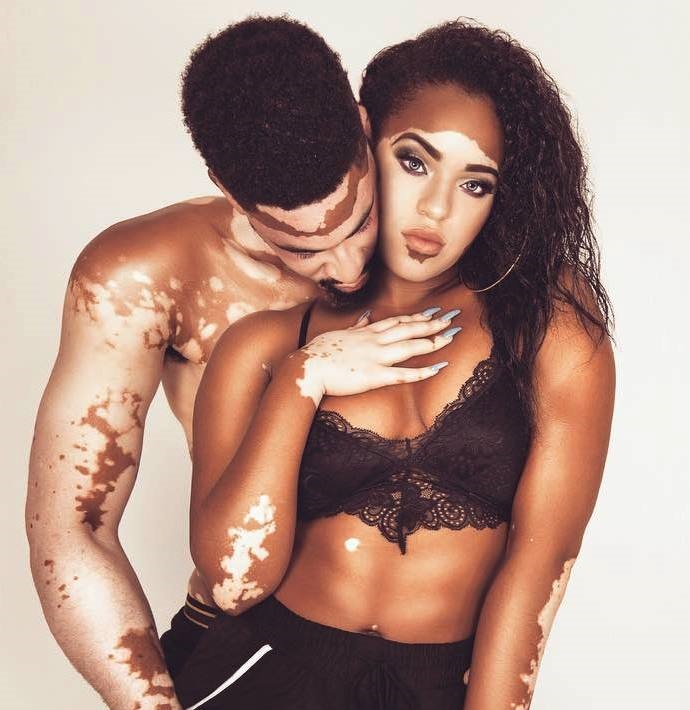 Today strange stares and questions do not bother Mariah anymore. She is now able to look at them objectively and feels the need to educate others about vitiligo. "When I was younger, I always wanted to fade to the back and just blend in but having vitiligo forced me to stand out, and now I never want to be in the background again," she makes a point.
"Do you feel like people with vitiligo are underrepresented in books, and movies?" We asked Mariah. She answered, "I do feel like vitiligo is underrepresented in books and movies. It is great to see it now more in fashion and on social media, but it would be nice for our story to be told and expressed on other forums. Especially in more entertaining ways, such as being in a movie or a television show, rather than just the same documentaries talking about vitiligo and what it is like to live with it. It would be nice to see more people like us just living our lives, despite having vitiligo."
"So, what young vitiligo fighters should do to live happier with vitiligo?" was our last question in line. Mariah had a beautiful response to that. "I just want to tell others that embracing my vitiligo was not an easy journey and it did not happen overnight. But things do get easier. And once you make the decision to love yourself whole-heartedly, you will never go back. It takes time and patience, and it won't be easy at first, but it is definitely worth it. Do not be afraid to show who you are and never feel the need to hide yourself from the world. You are BEAUTIFUL no matter what."
At present, Mariah is attending Towson University to study Criminal Justice. She wants to travel and be a motivational speaker, pursuing dance at the same time. Mariah is also toying with the idea of writing a book about her vitiligo journey. Well, we can't wait for that to happen. Can you?