Cesar Lindarte Castro, 31 is originally from Caracas, the capital of Venezuela. He currently lives in Bogotá, Colombia where he is employed as a 'Karate Do' instructor. He is also a Dan in the style of Goju-Ryu and is the official representative of Okinawa Goju-Ryu Karate Do Kyokai (O.G.K.K) for Colombia.
Cesar had his first encounter with vitiligo at the age of 15. But, unlike many, he never perceived it as a problem. Cesar shares, "For me, vitiligo was never a problem. I have always accepted it as part of me. This can only explain why I have never been a victim of intimidation because I always had a positive attitude towards life."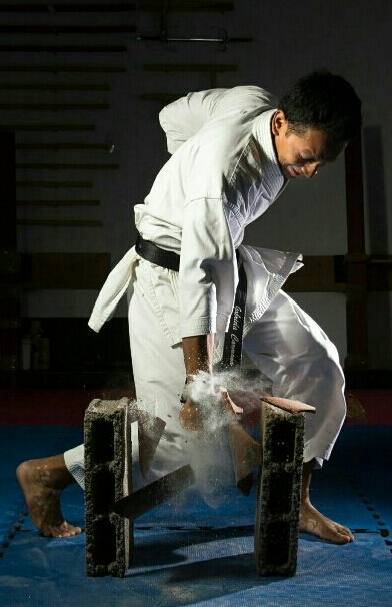 As they say – "A positive attitude can go a long way to make you a happier human being." Today, Cesar has accepted every patch of vitiligo that appears on his body and he is indeed proud of his individuality and exclusivity. This could be one of the reasons why he considers Winnie Harlow as his relentless inspiration.
Just like many other vitiligo crusaders featured in the series, Cesar also feels that vitiligo is underrepresented in popular culture: "I feel that people with vitiligo are not taken into account for movies, books or advertising images."
But, that doesn't stop this man from celebrating his distinctiveness "I love my vitiligo; it's on my body. And, my body is part of me. In general, people prescribe me home remedies or recommend a dermatologist. But, I rather prefer applying sunscreen to look after my skin than using some cream or treatment to change my skin," the vitiligo crusader shares his point of view.
"Thanks to vitiligo, now I can reach the attention of the little ones in the middle of a Karate Do. It gives me immense joy when my Karate students tell me that, for them, I am an inspiration of acceptance and respect," the Dan pours his heart out.
We hope, just like Cesar's students, you too draw some positive energy from Cesar's vitiligo story. We are honored to have Cesar Lindarte Castro (official Instagram: @cesar_lindarte_sensei) featured among all vitiligo crusaders.